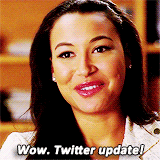 In the article, From the Blackhand Side: Twitter as a Cultural Conversation Andre' Brock discusses how Twitter is ensuring the closure of the "digital divide" that previously occurred due to lack of access to the internet in African American and Latino communities. He states, "Twitter's ubiquity and ambiguity— mdesign decisions made to encourage adoption of the service—enabled material access to the service with little loss of functionality; an important point to realize when considering that Blacks access the Internet (and Twitter) primarily through mobile devices". In this quote, he is arguing that the rise of Twitter participation is due to the rise of mobile phones and thus is aiding in the closure of "digital divide". Digital divide implies that people of color are technological outsiders and neglectfully overlooks the people of color that are online. During lecture, professor De Kosnik mentions that statistically African Americans make up 12-13% of the population in the United States. However, they comprise of 24% of twitter users in the U.S.!
Both authors Brock and Fiorini argue that African Americans users perform their racial identities through the practice of "Signifyin'". Fiorini states, "Signifyin' is often used as a catch-all term for various Black American oral traditions such as woofing, marking, playing the dozens, sounding, loud talking, and others". Demonstrating that Signifyin' is a form of linguistic performance allowing for communication through word play.
In this manner we will focus on two examples in media. The first example is this clip from the show Wild 'N out, this is a television series on MTV that is hosted by comedian Nick Cannon. In this television show there are two teams of comedians in an improvised fashion, "dissing"(used in twitter as a subgenre of signifyin') each other back and forth. In this form, there is a clear engagement of word play depicting this television show as a performance and a skilled verbal game, with a secondary audience of participants that comment, laugh, and cheer out loud for the team they think is the funniest. Florini mentions that in this same way re-tweeting would be the equivalent of having secondary participants due to twitter having text boxes being can be used as a verbal translator for something as simple as the person laughing out loud (lol) or comments to these interactions, resulting in a shared experience of humor.
In this similar fashion, the 2004 film White Chicks, also demonstrates the term Signifyin' through word play of Yo Momma jokes. White Chicks is a comedy film in which the Wayans brothers (Shawn and Marlon Wayan) are FBI agents and disguise themselves as two wealthy white women known as the "Wilson" sisters. In this clip they are located in the Hamptons Hotel and the Wayans brothers (as the Wilson sisters) are standing with their three best friends when their rivals the "Vandergeld" sisters approach them and say a "dissing" joke about the Wayans brothers momma. This lead to the back and forth skilled improv performance of both parties "dissing" each other and their friends functioning as secondary participants with comments, laughing, and constant cheering.
All in all to say that platforms on social media such as Twitter can give this same performance that television shows and films provides viewers. Additionally, the significance of Signifyin' on Twitter allows African Americans to embrace their racial identities as well as the formation of a safe social space for their blackness.
Questions:
Can you think of other television series or films that provided this Signifyin' or "dissing" platforms?
Do you agree with Brock's Twitter participation and the rise of mobile phones being one of the reasons for the closure of "digital divide"?
How do you feel about Twitter as a social media platform?
Do you feel that Twitter is a safe space in which one can network and meet new people? If so give an example.
Thoughts and comments are welcomed below!
Thank You!